Are you looking for a support worker? Choosing a support worker isn't always easy, because they play a crucial role in your personal life. It's important you feel comfortable with your support worker, so finding the right one can take time and research.
In addition to traditional organisations that provide support workers, there are several helpful websites that make the process for finding support workers easier and less stressful. You can choose your support worker online from these platforms and have complete control over the process.
In the table below, we compare some of the key features of the most popular support worker platforms: Mable, Hireup, LikeFamily, Care Seekers and Find a Carer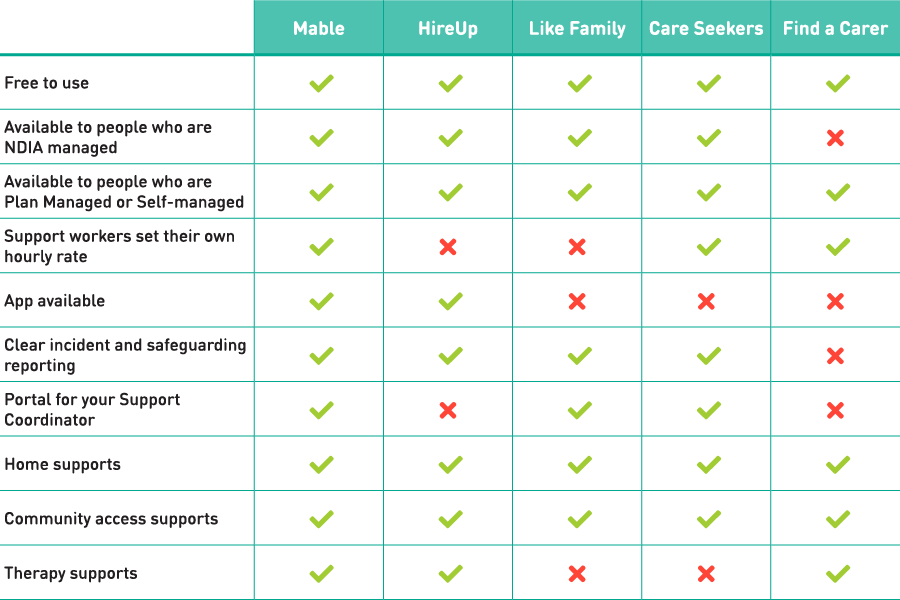 How do they work?
Support worker platforms are websites that allow you to search for support workers using filters, such as age, skills, location and more. They also help you to learn more about each support worker, including their interests, professional background and whether they have experience with specific disabilities. You can even read reviews to learn how others rate their experience with a particular support worker – kind of like Uber or Airbnb. 
Once you've chosen a support worker suited to your personality and specific requirements, you can book them directly through the platform. Most platforms offer a 'management system', which allows you to see any upcoming appointments. You can also reschedule your appointments without needing to contact your support worker directly.
What should I look for?
There are so many platforms out there and they all offer a slightly different experience, like the number of support workers on the platform or the level of insurance they offer.
Here are some of things you might like to consider when choosing which platform to use: 
How many support workers do they have that are available in your area?
Are the support workers on the platform qualified?
Do they offer all (or most) of the supports you need?
Can support workers set their own hourly rate or is the hourly rate the same for everyone who uses the platform?
Is there an app?
Can your support coordinator get access the platform?
How do they compare?
Depending on what you're looking for, some of these platforms might suit you more than others. While the table above gives a general overview of the main differences between the top platforms, it of course doesn't paint the whole picture. Before picking a platform, we encourage you to visit their websites, read some reviews and talk to others about their experiences to get a better sense of what it might be like for you. And remember, nothing's stopping you from using more than one!
Need help?
Need assistance finding the right support workers for you? A support coordinator can help by working closely with you to understand what you're looking for and connecting you with suitable support workers in your area. At the moment, you're able to use your Core supports budget to access support coordination.
Have you checked out our customer benefits section of the Dashboard?
Visit the Benefits section of your Dashboard to view a range of exclusive offers from support worker platforms, including a $200 Mable voucher*, to help you find and connect with supports through the Mable platform.